Monday, August 23, 2010
Right now an exciting offer that is being promoted exclusively through TradePub, our partners.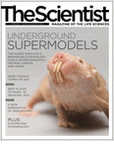 FREE ONE YEAR SUBSCRIPTION to "The Scientist" WITH NO COST
.
*An annual subscription to "
The Scientist
" typically costs the subscriber $39.95. Now, you can have it with NO cost !
The Scientist
is the magazine for life science professionals. For 20 years they have informed and entertained life scientists everywhere. Their target audience is active researchers that are interested in maintaining a broad view of the life sciences by reading articles that are current, concise, accurate and entertaining.
The Scientist
is complimentary to
qualified professionals
in
USA
and
Canada
only. The publisher determines qualification and reserves the right to limit the number of free subscriptions.
Click to Subscribe FREE The Scientist
Labels: E-Doc, Education, Learning