Tuesday, July 29, 2008
Recommended :
-
Subscribe FREE - Processing Magazine
-
Tips on Succession in FREE Subscription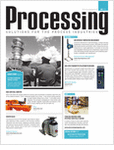 Have you ever dream of studying engineering in
Massachusetts Institute of Technology
(MIT) ? Now you may have chance to learn from MIT for
FREE
. Amusing !
Since year 2000 MIT has started an initiative (called
OpenCourseWare
) to publish all their courses in the web for everybody to see, enjoy and learn. They have created a web site storing a the 1800 courses for public viewing, read, download, distribute, etc
All the content of courses includes lecture notes, laboratory exercises, tests and quizzes and the answers, and videos for some courses. The courses posted in this site are the real courses identical to the ones that are being offered at MIT campus.
Lecturer can download and use them for lecture purpose...
Student can read and learn...
Engineer can refresh their understanding and re-educate...

Knowledge is Own by Everyone
but Not Someone

Thanks to MIT to share...
Related Post