Monday, July 21, 2008
Recommended :
Subscribe FREE - Processing Magazine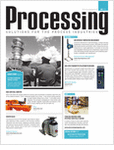 A
free surface vortex
potentially form when :
i) liquid exit via a nozzle or hole below it liquid surface (bottom or side) and
ii) liquid height (between liquid surface and nozzle/hole) is below a
minimum submergence height (S)
.
When free surface vortex is formed,
gas entrainment
will occur and pull vapor / gas above liquid surface exit together with liquid via the nozzle / hole. The following image shows series of events taken place when a free surface vortex is formed.
Similarly, gas entrainment occurs at pump suction intake point causes vapor/gas enter pump reduce pumping capacity and vibration (due to pump impeller imbalance).

Submergence (S)
is defined as the
height between liquid surface and the exit hole
. Following images show submergence (S) for different intake location and nozzle type.
Submergence subjects to intake velocity with the following relationship :
where

d = intake diameter (m)
Q = intake flowrate (m3/s)
Example :
A pump transferring liquid from a suction tank to a reactor at a rate of 227.1m3/h. The pump suction inlet nozzle with a internal diameter of 304.9mm is located horizontally. What is the minimum submergence to avoid gas entrainment ?

d
= intake diamter = 304.9 /1000 = 0.3049 m
Q
= intake flowrate = 227.1 / 3600 m3/h = 0.063 m3/s
S = 0.3049 + 2.3 (4 / SQRT(9.81) x PI) (0.063 / 0.3049)
S =
0.66 m


Thus,
minimum submergence (S) is 0.66 m
above intake nozzle.
* SQRT = Square-root
** PI = 3.141592654
Related Topic
Labels: Pump