Sunday, September 7, 2008
Recommended :

-
Tips on Succession in FREE Subscription
-
Subscribe FREE - Processing Magazine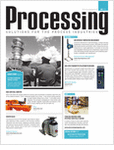 Nowadays knowledge sharing is one of the key feature in well performed organization. These type of organizations have a break-through in conventional thinking and approach. Conventional approach believe in copyrights, patent, etc, However, these organization believe that the more you share the knowledge, the more you will learn in return.
There are several examples in
Chemical & Process Technology
earlier posting.
Massachusetts Institute of Technology (MIT) publish all their courses in the web for everybody to see, enjoy and learn. They have created a web site storing a the 1800 courses for public viewing, read, download, distribute, etc. All the content of courses includes lecture notes, laboratory exercises, tests and quizzes and the answers, and videos for some courses are posted in this site... Read more in "Knowledge is Own by Everyone but Not Someone".
An very interesting and interactive online periodic table where each element is linked to a video explaining and experimenting with the element. This was developed by

Professor Martyn Poliakoff

from

Nottingham University

's Clean Technology Group at the Department of Chemistry... Read more in "Periodic Table of Videos for Element".
This concept is pretty simple. One of you share your experience in a particular area i.e. pump maintenance and publish in any platform i.e. via
Chemical Process Technology
, 1000 readers have read the posting. 1% of the 1000 readers, 10 readers share their special experiences in the same topic, in return every readers learn extra 10 special experiences. Can you imagine how much you will learn each day ?
We, members of
Chemical and Process Technology
blog really appreciate your efforts in sharing your experiences. Let build a sharing community... share anything related to our industry with all of us...
Related Post