Monday, February 9, 2009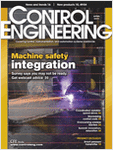 Control valve capacity (Cv)
for particular application is determined by the use of recognized valve sizing equations. This valve equation can be found in several handbooks i.e.
Fisher
,
Masoneilan
, etc as discussed in "
Useful Documents Related to Control Valve
".This article presented a simple idea why a control valve is normally operate at around 60-70% valve opening and it associated impact such as
increase signal dead band effect
and
affect optimum controller settings-wider proportional band
and
faster reset
. It recommended a new way to overcome the impacts by introducing
VARIMAX
.
Read more...
Download
Related Topic
Labels: Control valve, Fluid Flow