Monday, February 23, 2009
Recommended :

-
Tips on Succession in FREE Subscription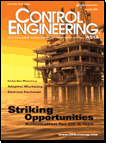 High pressure feedwater pumps are subject to overheating and subsequently very rapid damage if used at low flow as compared to the rated capacity. The minimum flow required for pump protection is specified by the pump manufacturer. It is never less than 15% and can sometimes be 40% or more. When the flow required by the boiler is below this limit, the feedwater pump flow demand is artificially increased by discharging to the deaerator or sometimes to the condenser through a recirculation valve. The recirculation valve is required to operate either on-off within a selected range of values of flow to the boiler, or in modulating service. In this case, the flow through the control valve is equal to the difference between the pump minimum flow and the actual flow to the boiler. Modulating service avoids the waste of energy since the recirculated flow is kept at the minimum acceptable value, but it is more severe in terms of valve service.
Several precautions may have to be taken while selecting this type of recirculation valve :
Cavitation
Pressure drop distribution
Axial / Radial design
Shut-off/ Wire drawing
Clogging
Vibration
Failure position
Read more...
Download
Related Topic
Labels: Control valve, Fluid Flow