Wednesday, February 25, 2009
Recommended :
-
Tips on Succession in FREE Subscription
-
Subscribe FREE - Processing Magazine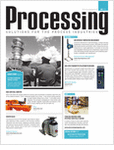 Pressure relief to protect system from overpressure and emergency depressuring to evacuate system inventory to safe location are common plant safety system. Fluid is discharge in the proper designed collection system will then be send to flare for proper combustion. Different fluid characteristics, pressure available in the collection header, carbon-hydrogen ratio, concentration of toxic component, local requirement, etc will require different type of flare tip for proper flaring.
There are several typical flare type :
Pipe flare (subsonic)
Sonic flare (single tip & multiple tips)
Coanda tip (single & multiple)
Steam assisted flare tip
Air assisted flare tip
Enclosed flare
Endothermic flare
Liquid burner
Other proprietary tip
A process / package engineer will prepare flare tip datasheet and flare tip vendor will base on the provided information and requirement to select a proper tip. It is sometime interesting to know what type of flare tip will typically be selected by vendor. This is to ease preliminary design and plant layout consideration.
A
simple flare selection chart
has been provided to ease process engineer in flare tip type selection.
Related Topic
Labels: Combustion, Flare