Wednesday, October 1, 2008
Earlier post "
Why bypass Non-Return Valve (NRV) ?
" discussed the purpose of providing manual block valve across Non-Return Valve (NRV) on centrifugal pump discharge. Typical the purpose covers :
Pump priming
Pump warming

NRV downstream section draining
Recommended :
Subscribe FREE - Chemical Processing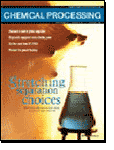 Now the question is focus on
pump warming
.
What is the basis of setting this recycle flow rate ?
Lets first define the purpose, how it is implemented and how to set the flow.
Purpose
The main purpose of the bypass line is to maintain a minimum temperature different between the pump (and associate piping ) and the pump suction fluid temperature to avoid temperature shock in the event of standby pump is started-up automatically.
How it is implemented ?
The bypass can be
fixed restriction orifice (RO) or;

non-return valve (NRV) with hole or;

globe valve
How much flow ?
The bypass flow rate should be sufficient to cater for :
i)
Start-up
:
pump and associate piping heat-up
from minimum ambient to normal suction temperature within a reasonable time i.e. 2 hours
ii)
Normal operation
:
heat leakage
via insulation during normal operation
Tips
Generally above calculation are time consuming. Experience based approach may be taken where setting the RO / NRV hole size as 6-8 mm or install a one (1) in globe valve.
Related Post
Labels: Fluid Flow, Hydraulic, NRV, Pump