Monday, April 20, 2009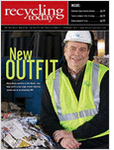 "
spin battery
", a battery that is "charged" by applying a
large magnetic
field to
nano-magnets
in
magnetic tunnel junction
(MTJ). This technology is basically store energy in magnets and potentially lead to creation of computer hard drives with no moving parts and new battery for power cars. A team lead by Physicist Stewart E. Barnes and and his collaborators.
The secret behind this technology is the use of
nano-magnets
to induce an
electromotive force
. It uses the same principles as those in a conventional battery, except in a more direct fashion. The energy stored in a battery, be it in an iPod or an electric car, is in the form of chemical energy. When something is turned "on" there is a chemical reaction which occurs and produces an electric current. The new technology converts the magnetic energy directly into electrical energy, without a chemical reaction. The electrical current made in this process is called a spin polarized current and finds use in a new technology called "
spintronics
."
Read more in
here
Related Topic

Labels: Green Technology, Technology