Tuesday, January 20, 2009
Recommended :

-
Subscribe FREE - Energy Biz
-
Tips on Succession in FREE Subscription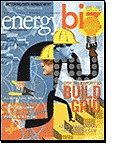 Koch-Glitsch (KG)
is one the world's largest manufacturer of mass transfer equipment internal i.e. structural packing, random packing, tray, column internals, etc. If you have ever involved in design ang operation of plant with column, you probably aware of KG-TOWER. KG has just released it column packing hydraulic rating software,
KG-TOWER® Equipment Rating Program
, version 4 and available FREE for download ! KG-TOWER assist process engineer in designing a new column internal and rating of existing column internal. The internal includes those conventional tray, high performance valve trays (by KG), conventional and high performance random and structured tower packings.
New Feartures & Improvement
In the new release (ver. 4), new feature and improvments include :
Sieve tray design/rating capability
Updated tray models
Support for PRO/II 8.1 files in Simulation import feature
Ability to rate INTALOX® ULTRA™ Random Packing & FLEXIGRID® severe service packing sizes
Ability to specify minimum and maximum loadings
More tray definition sketches
Updated Help files, including more support for the simulation import feature
Updated sales contact and technical help information

Download KG-TOWER
(registration required)
Source :
Koch-Glitsch (KG)
Related Topic
Labels: Column, Fractionation, Packed Column, Packing