Saturday, June 13, 2009
Display problem ? Click HERE
Recommended :
Subscribe FREE - Chemical Processing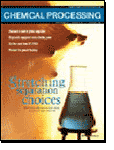 Chemical Engineering
has shared a new FAYF. This FAYF is related Choosing Control System.
Process engineer - Why you need to know Control System
Choosing a control system is not a process engineer task. It is typically Instrumentation and Control engineer task. However, understand what is control system, how many type of control system, how a control system works, differences between control system, etc may be important to a process engineer as process engineer define main control objective in Piping & Instrumentation Diagram (P&ID) to achieve the control target and preparation of System Control Narrative so that Control engineer can further develop the control logic.
Typical Control System
Two main type : Distributed Control System (DCS) and Programmable Logic Control System (PLC). A DCS is designed for process control with refinery control origins whilst a PLC is designed for machine or motion control with car factory relay panel origins. While PLCs are sometimes used for process-control applications, there are some trade-offs in terms of degree of programming, robustness and operational suitability.
Control System Characteristic
Distributed control system (DCS)
Continuous control
Parameters change frequently
Sequence capability in batch process
Operators intervention
Integration with other applications
Robust control
Multiple controllers interaction
High availability
Historical data collection
Programmable Logic Control System (PLC)
High speed processing

Discrete application (digital inputs/outputs)
Application predominantly in machine/motion control
Application do not change frequently
SCADA architectures with PLCs

Capability of operators intervention & decision
Ladder logic is effective way to handle logic

Separated application with small amount of I/O
Ref :
1. Gregg, J., Control System Selection, Chem. Eng., August 2002, pp. 62–66.
2. Bohan, J., Industry Solutions Manager, Honeywell Process Solutions (Phoenix, Ariz.), personal communication, Apr. 6, 2009.
Download
Note :
*This FAYF is only available FREE to Chemical Engineering Magazine registered user

. Login required. Subscribe FREE CE
,
click here.
** Download immediately as article available FREE within short period only. Do not wait.
*** Found lost link or unable to download, may contact me...
Related Topic
Labels: Control